If you like to spend your holidays in a campsite it is because you value nature and the feeling of freedom in a quiet and familiar place such as Bonterra Park. The comfort of an accommodation combined with an open, green space, close to the sea and in coexistence with other campers, make vacations in our campsite an option increasingly chosen by families in summer and winter.
If you are undecided when choosing between our different accommodation offers, we will explain below all the possibilities you can find in our Benicàssim campsite.
Pitches
If you like to travel by caravan or motorhome or perhaps you are one of those who loves the most traditional camping with tent, you can choose from our 300 camping pitches.
The pitches are classified into three categories and can measure between 41m² and 90 m², with capacity for 4 to 6 people and different services depending on the category.
Gold Pitch
Pitches of 80-90 m² with capacity for 6 people. They are delimited by hedges and offer water, electricity and drainage. They are suitable for motorhomes, caravans and large tents.
Standard and Standard Plus Pitch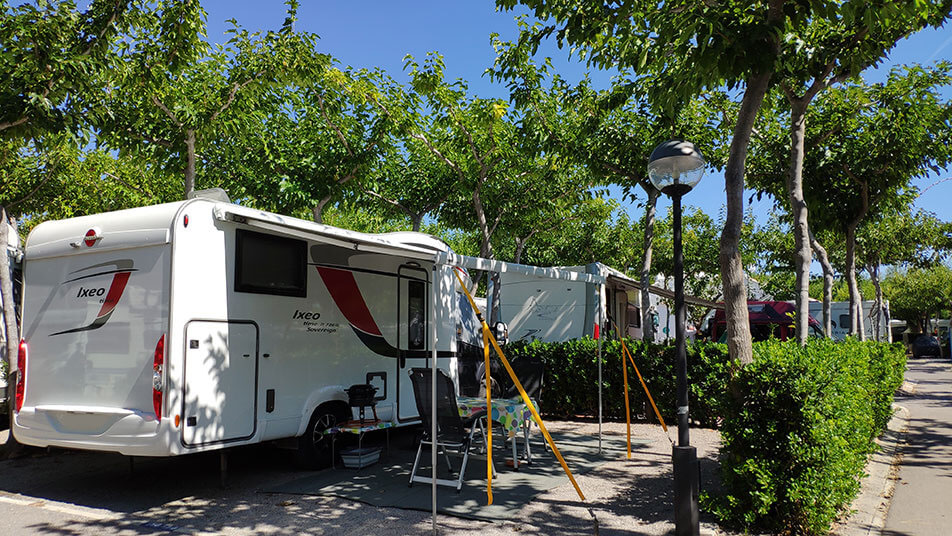 Both types of pitches measure 65 m²– 70 m² and have a maximum capacity of 5 people. Unlike the Standard ones, which offer connection to electricity, the Standard Plus pitches also have water connections, drains and are bounded by hedges.
Both are suitable for motorhomes, caravans and medium-sized tents.
Lodgings
If in your case you are looking for the freedom of camping together with the comfort of an aparthotel, you can choose between duplex villas for 6-7 people and our wooden chalets for 4 people.
Villas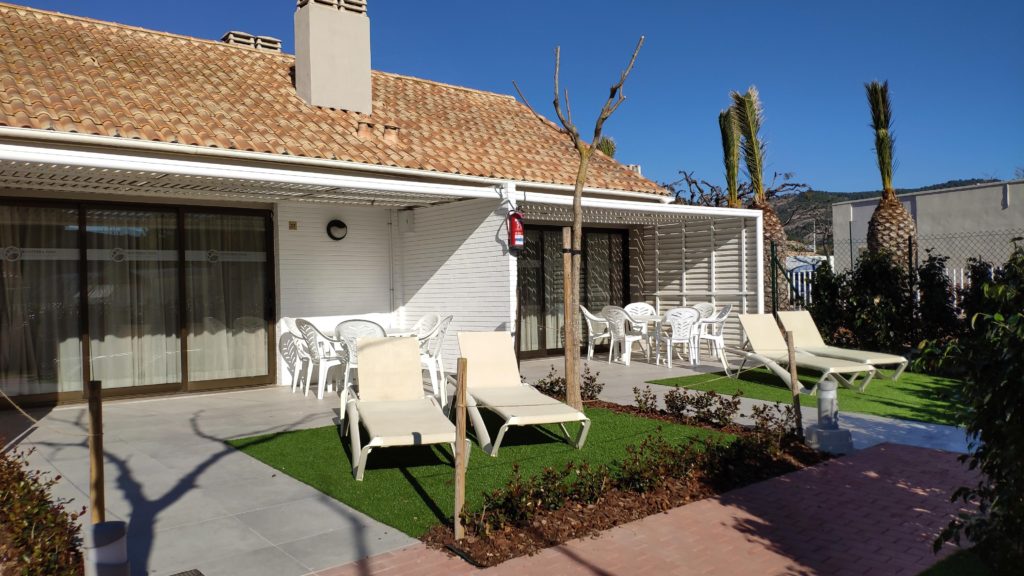 You can choose between Villa Jasmine and Villa, 34 construction houses with capacity for 6-7 people. Both have a ground floor with living room with TV and sofa, bathroom with shower (or bath in the Villa), 2 double bedrooms, kitchen with 2-door refrigerator, gas hob and microwave. In addition, they include an attic with 2-3 single beds.
Unlike the Villa, Villa Jazmín includes a private terrace with hammocks and a private garden, which have been recently remodeled and renovated.
Wooden Chalet
The 22 wooden booths of Bonterra Park measure between 41 m² and 52 m² and are divided into 4 categories, A, B, C and D, depending on the size and services offered. All of them have a furnished terrace (with garden, those of type D), living room with TV and sofa, 2 bedrooms, bathroom with shower and kitchen with 2-door refrigerator, hob (gas or electric) and microwave.
You can see here all the differences between the 4 types of chalet as well as more photographs and reservation availability.
In addition, other services offered both in the Villas and in the wooden chalets are the Wifi, a parking space, air conditioning and heat equipment, cleaning products kit, change of towels and sheets every 7 days, kitchen utensils and "Dolce Gusto" coffee maker. We also have rooms adapted for people with reduced mobility, both in the Villas and in wooden chalets type D.
As you can see, our campsite offers first class accommodation and very high quality, as well as keeping us in a constant renovation and improvement of both its internal and external structures and the utensils.
If you are starting to organize your vacation in Bonterra Park, you can now choose and book among all the types of accommodation we offer.
Live nature without giving up all the comforts.