If a few weeks ago we told you the opinions of some of our international clients and how they feel at our campsite during this different autumn, today several Spanish couples tell us about their holidays in Bonterra Park and their tranquility in Benicàssim.
If you are thinking of enjoying a few days or weeks with us during this autumn and winter, we want to convey to you with the words of the campers themselves, the confidence and security that our campsite in Benicàssim can offer you.
The four couples that we present to you in this article have enjoyed the month of September in our camping pitches with their caravans and motorhomes, and they plan to stay a few more weeks with us. We spoke with Juan and Teresa, Adolfo and Maricarmen, Antonio and Ana, and Bernabe and Pilar, from Valencia, Aranjuez, Alcalá de Henares and Guadalajara, respectively.
Juan and Teresa: "Here is a cleaning that I don't have in my house"
This couple from Valencia has been with us for several decades and they come every 2-3 months for 10 days, except for the summer. They like the tranquility of this kind of life and the respect and camping culture that their European neighbors tend to show. In fact, Teresa comments that they have many friends from other countries with whom they speak by signs: "without speaking other languages, we understand each other very well."
When we asked them about Bonterra Park, they comment that they have tried many other campsites but this is the only one they like, and that is why they repeat so much. "We like the good professional treatment, the restaurant, the cleanliness, which is divine, even too much. Not even my house is that clean."
Talking about security, they insist that they are very calm with us: "We have a villa with a pool at home but we like more to come here and we are not afraid."
Adolfo and Maricarmen: "We live outdoors and with more confidence than at home"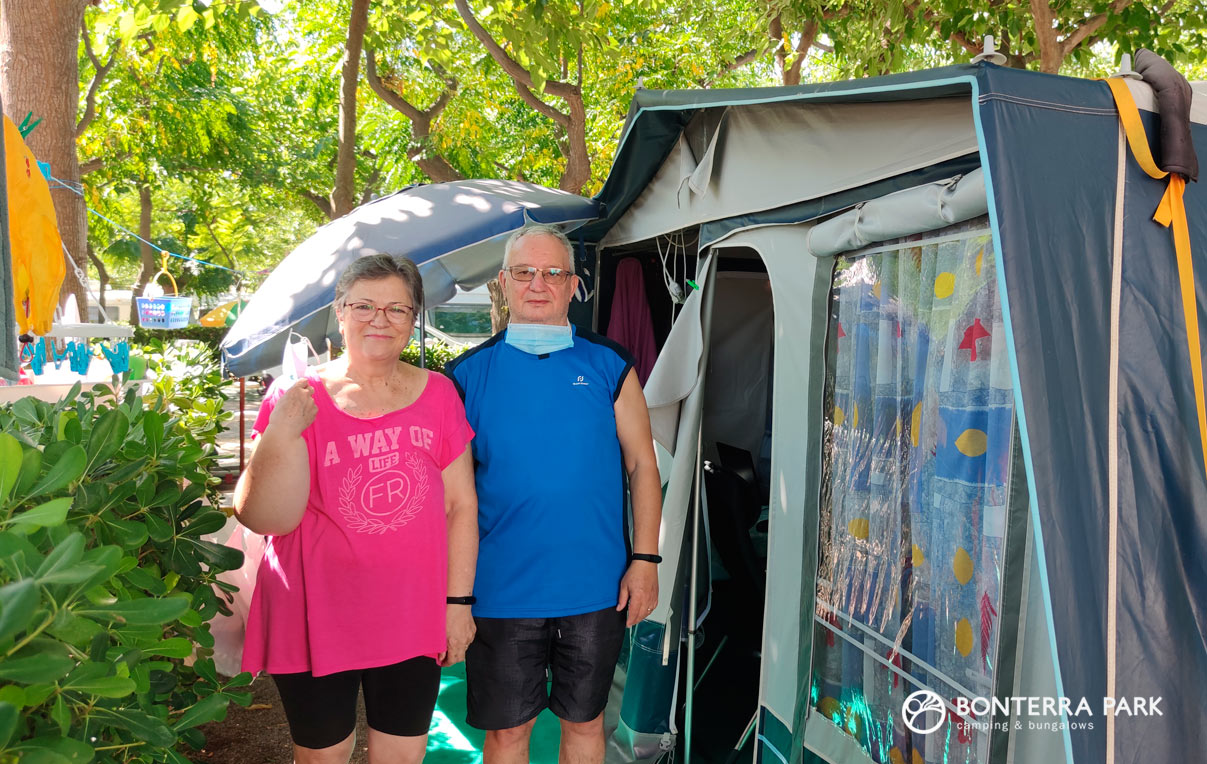 Adolfo and Maricarmen have been at our resort in Benicàssim for a month, and they have not lost a spring or an autumn with us since 2012 (except this year). In addition, they take turns with their daughter, to whom they leave everything installed during the summer months so that he can enjoy the holidays with his family.
Campers since they got married, they tell us that they have traveled a lot but that in Bonterra Park they have found what they need, for being in Benicàssim (a town that they love) and also for its location near the town and the beach, as well as its facilities and services.
This year they have been struck by the increase in Spanish campers during the fall, which makes them very happy, despite missing some of their European friends who have not been able to come, due to the current circumstances.
When we asked their opinion about security, they emphasize, as a small complaint, that the cleaning is so extreme that it is even difficult to find a block of services available without staff working. In addition, when comparing Bonterra Park with their house they tell us: "Aranjuez has a lot of nature and it is very good, but here we live outdoors and with more confidence than there."
Antonio and Ana: "We haven't even gone down to the beach, it's very good here"

This couple from Alcalá de Henares arrived on August 20, with the idea of spending the entire month of September in Bonterra Park, but they prefer the safety of Benicàssim and life in the open air than the risky situation of Madrid, so They have extended their stay until November, for now.
They tell us that since they met Bonterra Park, they have not returned to another campsite and that they are so comfortable that it is difficult for them to go down to the beach. "We haven't gone down to the beach yet. Here it is very good; you sit on your plot, walk around the campsite, around the town…"
Regarding the safety and cleanliness of the facilities, they tell us that they are very happy and that it reassures them to see the service blocks with cleaning staff for longer than with campers using them.
Bernabé and Pilar: "Staying at home we have the same or more chances of getting infected"

The last couple we have talked to are Bernabé and Pilar, from Guadalajara. They love to come in the autumn and they enjoy both the campsite and the beach of Benicàssim.
Like the rest of the couples, they have emphasized their peace of mind regarding the safety of Bonterra Park. In her words: "We come with some fear, as is normal, but we are of those who think that by staying at home we have the same or more chances of being infected. You have to go out and buy and live the same way, so we prefer to be here".
In addition, they tell us that this summer they have visited other campsites in different areas of Spain and that they have not seen security protocols like the ones in Bonterra Park.
We want to thank these four couples for sharing their thoughts on their stay and safety at Bonterra Park.
As we have commented at the beginning of the article, there is no more proof of our effort to maintain the hygiene, cleaning and disinfection protocols of our facilities, than through the tranquility of the clients transmitted in their own words.
You can access our booking platform right now and find your best option.